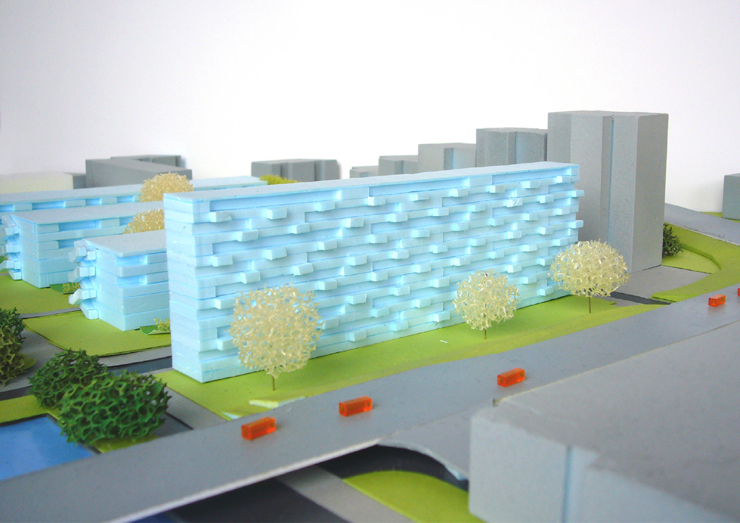 The monotonous layout of the existing slabs from the year 1964 is outdated. The 4 room apartments of 76 m2 are claustrophobic and the typology with a dead storage and parking zone on the groundfloor kills any possible public life. The only adequate solution seems a total redevelopment.

The new typologies should guarantee variation and individuality instead of repetition and uniformity. Private gardens to the southside replace neglected scrubs and abandoned playgrounds.
A mix of 2, 3, and 5 room appartments, maisonette typologies and elderly housing provides a healthy environment for singles, couples, families and seniors.
| | |
| --- | --- |
| | |

The urban layout foresees a lower range of compact blocks of 20 m depth and 4 storeys high with groundrelated houses flanked by a slender slab with view over the Ijdoornlaan. During construction, temporary container houses located in the vicinity of the small sports field will replace the 160 units.

Each housing typology is available in three different categories of finishings.
'Casco' for young starters who are eager to shape the house themselves in their own individual style and materials.
'Standard' with simple wall and floor finishings, normal kitchen block and sanitary fittings and
'Customized' for exclusive design wishes with specialized interiour and programs.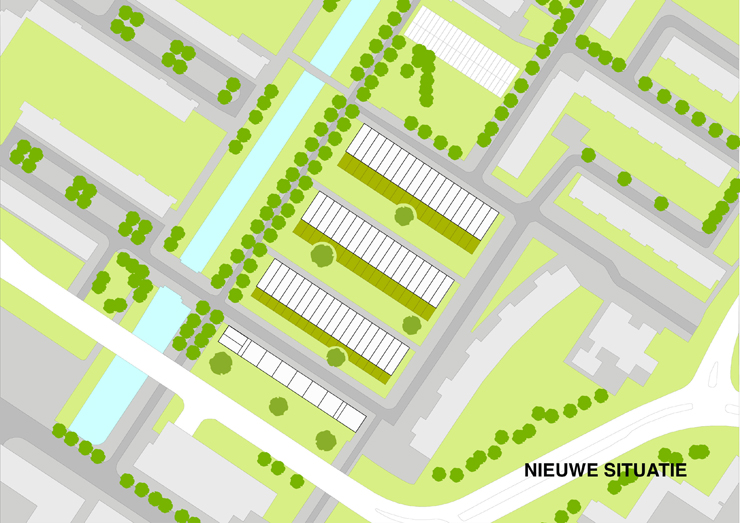 | | |
| --- | --- |
| | |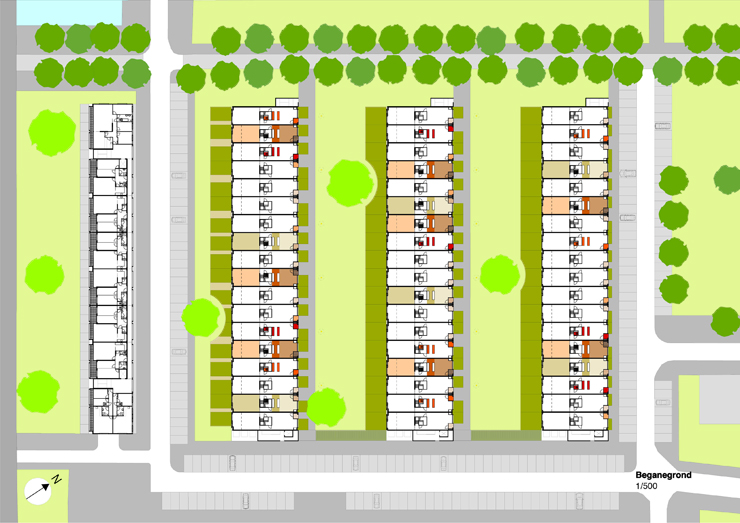 | | |
| --- | --- |
| | |

The eleven story high slab along the busy Ijdoornlaan serves as a noise barrier for the lowrise maisonette types. The secluded green backyard zone is only accessible by pedestrians and bikers.

Living in the highrise slab has a more urban character with southside orientation and views to the new center of Amsterdam North.
A balcony zone with large planting pots or winter gardens functions as accoustic buffer for the living rooms and studios. Bedrooms are orientated to the quiet backside.