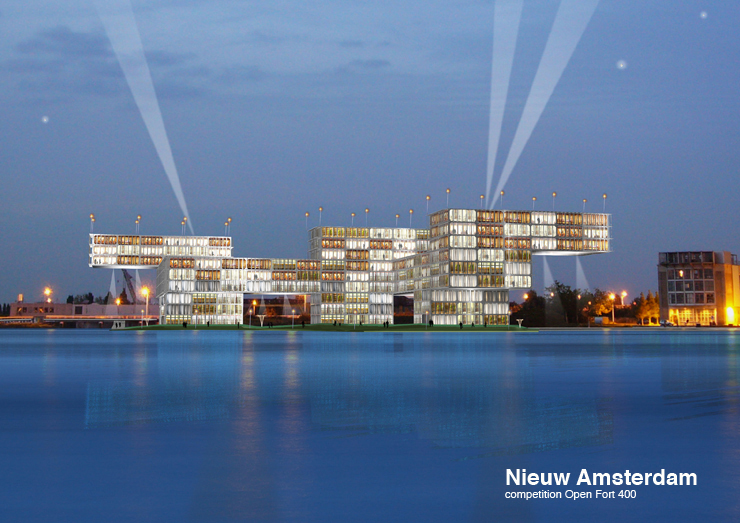 1 Urban Level - 'Urban Initiator'
Starting from the nucleus of 'Fort Amsterdam', the settlement that became Manhattan experienced a novel dynamic and growth and developped a whole new idea of what a city can be like.
Like the former 'Fort Amsterdam', the project's role as 'Urban Initiator' is designed to have a stimulating effect on the development of the 'Buiksloterham' area.

2 Programmatic Level - 'Incubator'
Specific NYC landmarks and programs serve as inspiration for the programmatic composition of the 24.000 m2 GFA. A compilation of metropolitan functions is transferred to 'Nieuw Amsterdam'.
The project hosts all the functions that new citizens need to get settled / started in Amsterdam North:
- available small scale office spaces for startups
- housing equipped for temporary stay (furnished, boarding houses)
- services and public functions (city register, housing agency, job agency, leisure, retail, language school, cultural institutions etc.)
- open waterfront and public space that facilitates sports and and social activities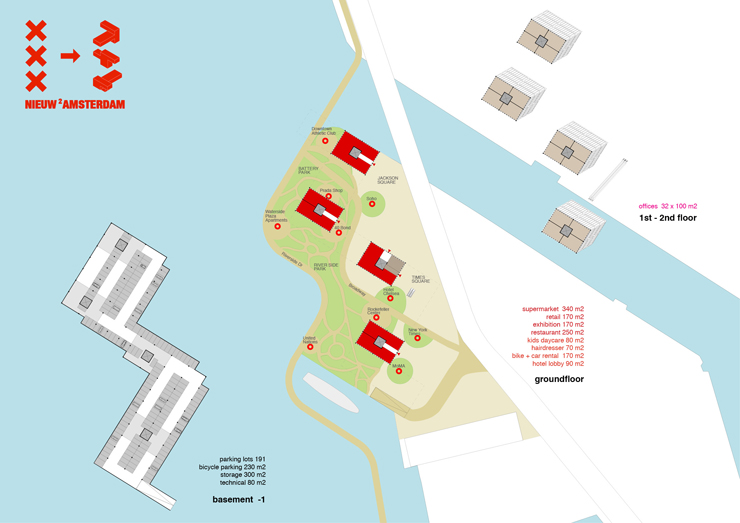 3 Building Level and Site - 'Grid and Park'
The basic urbanist element that enabled and enhanced the speed and scope of NY's growth is the grid. Being non-hierarchic the grid allows for maximum diversity and compatibility.
For 'Nieuw Amsterdam' a certain part of the Manhattan grid is projected onto the site in scale 1/10, making it applicable for the design and organisation of the new building. The projection maintains the actual orientation of the grid, resulting in the building's angular position to the Distelweg and Johan van Hasselt canal. It strengthens the iconic quality of the free-standing volume and allows for maximum exposure to the riverbanks and its surroundings. The composition of unfolding open angles and the lifting of the building give maximum views towards Amsterdam from the apartments.

The general proportions of the NY grid of 1 by 3 are kept throughout the whole design. The down-scaled grid used for the design is 8.1m x 24.3m. (All internal organisation, wall partitions, parking, vierendeel structure and facades are based on denominators of 1.35m, 2.7m, 5.4m which allows efficient planning)
The programme is allocated in three zones of distinct layers: the 'pillars', the 'folded slab' and the 'tentacles'.
Sliced into three voxels (3D pixels) these elements reflect the logo of the City of Amsterdam - 3 crosses revisited.



The building is located in the centre of a park. Freely designed Public Space surrounds the grid-based building. The park accomodates leisure facilities, fountains, a meandering promenade, the 'riverside drive' and access to the marina.