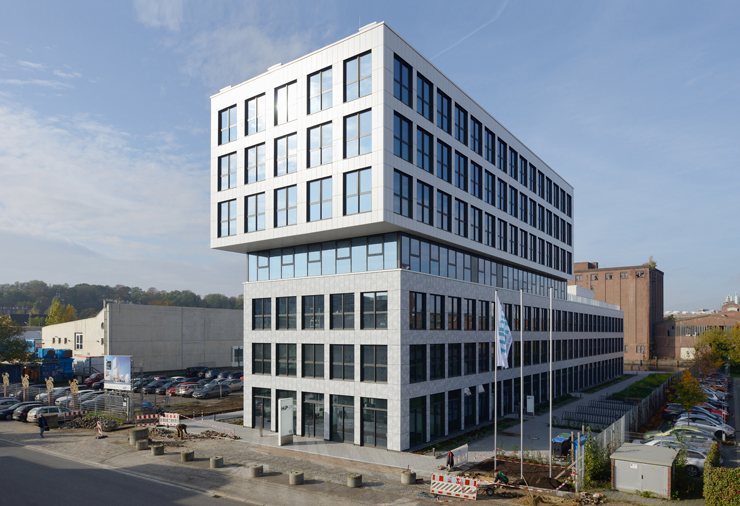 They are each composed of three different, stacked volumes, based on the basic concept: base - middle - head. In addition, the buildings are connected by bridges, which represent a particular potential for innovative programming. Due to the linear structure, the design can be phased flexibly, which takes into account the continuation and interim use of existing buildings.

HIP_1 consists of an elongated 3-storey building, over which a three-storey volume projects into the direction of Blohmstrasse. The cantilever is offset by a glazed mezzanine. The green roof top garden of the base is communal and accessible to all users of the building.
usage
Office space is provided from the groundfloor area till the 6th floor.
There is one rental area per core and floor, which sums up to max. 10 rental units. The division of the rental areas is based on the 400 m2 regulation.

access
The building has two separate entrances. One as the main entrance from the Blohmstrasse, one in the area of the second core from the southwestern side.
The required parking spaces for motor vehicles will be erected on the undeveloped part of the property southwest of the building.
The bicycle parking spaces are located on the north side of the building.
As a link to the later construction phases of the HIP, a bridge at the level of the roof in the 3rd floor is planned.

The internal access via two cores is equipped with one elevator in the low or two elevators in the high part of the building and one staircase per core on all floors. All rental areas are provided with autonomous access and escape. The development in the building is planned barrier-free.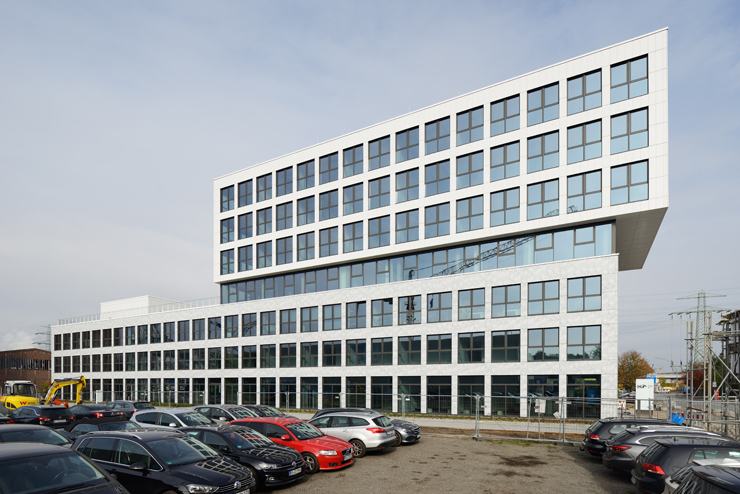 The building is wrapped in a curtain-type, rear-ventilated facade made of ceramic tiles. The facade elements of the cladding form a circumferential skin into which the windows are cut.

The ceramic plates are kept in very light to white shades. The facade cladding of the upper and lower structure is designed differently in terms of surface, relief and color.
Addresse: Blohmstraße, Hamburg Harburg, Germany
Design Team: MVRDV, Jacob van Rijs, Markus Nagler, Tobias Tonch, Jonathan Schuster, Johannes Pilz, Phillipp Kramer, SvenThorissen
Co-architekt: morePlatz, Johannes Schele, Caro Baumann,
Martin Muc
Bauherr: Hamburg Innovation Port GmbH
Fläche: 6.000 sqm
Projekt Jahr: 2019
Photos © Allard van der Hoek